Earn Your Online Degree at the University of West Alabama
You've Always Known You Were Destined To Make A Difference
Request More Information
Complete this form to receive information about coursework, admissions, tuition and more.
Note: All fields required.
Do Something That Matters
Your career goals are within reach with the online degrees from the University of West Alabama. Choose from dozens of programs in education, business, psychology, sports management and other fields, all in a flexible environment. UWA Online offers personalized education to help you achieve your dreams on your schedule and at an affordable cost. Plus, benefit from our generous credit transfer policy and get personal support from application to graduation.
The University of West Alabama is regionally accredited by the Southern Association of Colleges and Schools Commission on Colleges (SACSCOC).
All educator certification programs are approved by the Alabama State Department of Education and accredited by CAEP.
The University's College of Business and Technology is nationally accredited by ACBSP.
UWA Online is proud to offer tuition that is among the most affordable in Alabama.
Online Degrees and Certificates
Discover the online program that offers a path to your goals.
With our online business degree programs, you can enhance your career opportunities in your field and make an impact on behalf of organizations of all kinds. Develop the skills and knowledge to become a results-driven leader in accounting, marketing, sport management, technology and other business specialties.
BA/BS Sport Management
BBA in Accounting
BBA in Business Administration

Entrepreneurship and Non-Profit Administration emphasis
International Business emphasis

BBA in Finance
BBA in Management
BBA in Marketing

Comprehensive Marketing emphasis
Event Marketing emphasis
Professional Sales emphasis
Sport Marketing emphasis

BS Computer Engineering Technology
BS Technology
Our communications programs instill hands-on multimedia experience in several areas as you study graphic design, interior design, photography, web design, social media, news writing and social science. The programs also delve into marketing theory and media law.
BA/BS Integrated Marketing Communications

Graphic Design track
Multidimensional Interior Design track
Sports Communication track
We offer an interdisciplinary studies program for students with multiple interests and those who have existing credits and would like to complete their degrees. Our program lets you explore different courses across the UWA curriculum under the supervision of an advisor.
BA/BS Interdisciplinary Studies
With our RN-BSN program, you can build on your current nursing knowledge and qualify for advanced professional opportunities and a variety of nursing careers. Plus, gain valuable skills to meet the demands of our rapidly changing health care system through a curriculum that emphasizes evidence-based practice and leadership.
Build knowledge in topics that span multiple teaching areas, from early childhood development to special education. You can prepare to teach elementary classes or get certified in Collaborative Teacher/Special Education.
BS Early Childhood Development
BS Early Childhood/Elementary Education (P-3/K-6)
BS Special Education: Collaborative Teacher
General Science: Teacher Certification
Develop an understanding of human behavior and functioning with an emphasis on experimental methodology and statistical training. Unlike most large institutions, we encourage you to assist faculty members in research as an undergraduate, develop independent projects, and attend regional and national conferences to present your original research.
BA/BS Psychology
The program is designed to equip you with skills to address new issues and topics within public service. You'll take multidisciplinary courses that explore communications, reporting, time management, psychology, counseling and law enforcement.
Gain skills in ecology, geology, geographic information systems and environmental law to develop solutions to urgent challenges impacting our planet. You'll learn from industry experts as you prepare to start an environmental science career or move into public health, conservation or forestry.
BA/BS Environmental Science
Pursue a teaching career or change the subject or grade you teach with one of the 12 certifications listed below. You can earn a master's level teaching certification and a Master of Arts in Teaching (MAT) or Master of Education (MEd) degree. To apply, you must hold a bachelor's or master's degree from a regionally accredited institution with a minimum 2.75 GPA or 3.00 GPA, respectively.
Biology, 6-12 (MEd or MAT)
English Language Arts, 6-12 (MEd or MAT)
General Science, 6-12 (MEd or MAT)
History, 6-12 (MEd or MAT)
Mathematics, 6-12 (MEd or MAT)
MEd Early Childhood & Elementary Education, P-3/K-6
MEd Early Childhood Education, P-3
MEd Elementary Education, K-6
MEd Special Education: Collaborative Teacher, K-6
MEd Special Education: Collaborative Teacher, 6-12
Physical Education, P-12 (MEd or MAT)
Social Science, 6-12 (MEd or MAT)
Improve your knowledge and skills in key business areas to lead successful organizations in numerous fields. We offer advanced coursework in strategic management, economics, business policy and other topics to prepare you for the demands of modern business. As a sign of our quality curriculum, the online MBA program is accredited by the Accreditation Council for Business Schools & Programs.
Doctorate of Business Administration (DBA) in Rural Business
Master of Business Administration (MBA)

Accounting
Computing and Data Analytics
Computer Information Systems
Cybersecurity, Cybercrime, and Policy
Entrepreneurship and Innovation
Finance
General Business
Healthcare Administration
Human Resource Management
International Business
Management
Marketing
Rural Business
Sport Management

MS Sport Management
Gain valuable skills for careers at the intersection of business, marketing and communications while acquiring hands-on experience in concepts relevant to today's workplaces. Our graduates are prepared to work with clients in advertising and communications settings, complete market research, determine target audiences and create effective multimedia work.
MA Integrated Marketing Communications
Achieve your goals as an educator by building teaching skills and preparing to meet the development needs of children and adult learners. Our programs impart qualifications for careers in early childhood, elementary and high school settings, as well as instructional leadership, library media and technology. You can also seek your doctorate in education to focus on critical rural education issues.
EdD Rural Education

Counseling track
Higher Education Administration track
Instructional Technology track
Library Media track
Organizational Change and Leadership track
Teacher Leader track

MA Teaching (Certification or Non-Certification)
MEd Early Childhood Development
MEd Early Childhood Education, P-3
MEd Elementary Education, K-6
MEd High School Education, 6-12
MEd Instructional Leadership
MEd Learning, Design & Technology
MEd Library Media
MEd Physical Education, P-12
MEd Special Education: Collaborative Teacher, K-6
MEd Special Education: Collaborative Teacher, 6-12
MEd Student Affairs in Higher Education
MS Adult Continuing Education
MS Physical Education
Develop superior practices to advance as an educator ready to improve students' lives. Our online EdS programs enable you to acquire specialized qualifications for leadership roles in P-12 settings, with options for studying counseling, library media and other topics.
EdS Physical Education (non-certification)
EdS Counseling (non-certification)
EdS Early Childhood Education P-3 (certification)
EdS Elementary Education K-6 (certification)
EdS Instructional Leadership (certification)
EdS Library Media (certification or non-certification)
EdS School Counseling (certification)
EdS Special Education: Collaborative Teacher, K-6 (certification)
EdS Special Education: Collaborative Teacher, 6-12 (certification)
EdS Teacher Leader (certification)
Build a strong foundation for supporting the mental health and wellness of diverse populations with UWA's counseling and psychology programs. Our online courses focus on the knowledge and skills needed to serve individuals and families in educational and clinical environments.
MEd School Counseling
MS Adult Continuing Education: Counseling and Psychology
MS Clinical Mental Health Counseling
MS Experimental Psychology

Clinical Psychology option
Health and Sports Psychology option

MS Family Counseling
MS Guidance and Counseling
Develop an understanding of biodiversity and natural ecosystems, the conservation of natural resources and how human activities impact the planet while you gain research skills that can lead to employment opportunities. Our graduates have pursued careers at national parks, the U.S. Environmental Protection Agency, the National Wildlife Refuge System, the U.S. Army Corps of Engineers, The Nature Conservancy and more.
In just one year, you can pursue qualifications to move into instructional leadership, special education or teaching. These online programs help you meet requirements set by the Alabama State Department of Education (ALSDE) while also preparing you for advanced education roles.
Post-Master's Certificate: Instructional Leadership
Provisional Certification in a Teaching Field
Temporary Special Education Certificate
About Us
UWA is located in the heart of Livingston on the western border of the state. As one of the oldest and most prestigious colleges in Alabama, we've been helping students pursue their dreams and goals since 1835. Join more than 3,500 online learners and take advantage of our tradition of excellence with our flexible online programs.
Request Info
Where Flexibility Meets Quality
UWA designs online classes to provide the flexibility needed to balance your school and work commitments. The courses offer the same rigor found on campus, so you can engage in quality education to prepare for career success. As you take classes online, your success coach will offer guidance and assist with your questions.
Succeed in the Most Relevant Fields
With UWA's online programs, you can pursue your personal and career goals in a culturally and intellectually diverse environment with the flexibility to fit your life. Join online classes taught by scholars and practitioners who can help you gain the skills and knowledge for the field that interests you.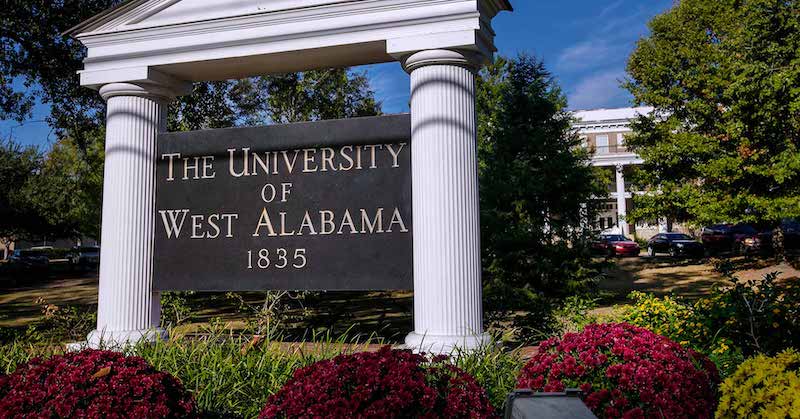 Pursue Your Dream Job
UWA Online offers academic programs that provide paths to success in growing career fields. You can develop the competencies needed to emerge as a leader in business, education or nursing — three industries projected to add more than 1.5 million jobs combined from 2021 to 2031.1,2,3
Career Paths for UWA Graduates
Curriculum developer: $68,995 per year4
Elementary school teacher: $61,350 per year5
Financial manager: $131,710 per year6
Marketing manager: $135,030 per year7
School counselor: $60,510 per year8
Sources
U.S. Bureau of Labor Statistics. "Business and Financial Occupations." Retrieved December 14, 2022, from https://www.bls.gov/.
U.S. Bureau of Labor Statistics. "Education, Training, and Library Occupations." Retrieved December 14, 2022, from https://www.bls.gov/.
U.S. Bureau of Labor Statistics. "Registered Nurses." Retrieved December 14, 2022, from https://www.bls.gov/.
Payscale. "Average Curriculum Developer Salary." Retrieved December 14, 2022, from https://www.payscale.com/.
U.S. Bureau of Labor Statistics. "Kindergarten and Elementary School Teachers." Retrieved December 14, 2022, from https://www.bls.gov/.
U.S. Bureau of Labor Statistics. "Management Occupations." Retrieved December 14, 2022, from https://www.bls.gov/.
U.S. Bureau of Labor Statistics. "Advertising, Promotions, and Marketing Managers." Retrieved December 14, 2022, from https://www.bls.gov/.
U.S. Bureau of Labor Statistics. "School and Career Counselors and Advisors." Retrieved December 14, 2022, from https://www.bls.gov/.