100% Online Sport Management Degrees
You've Always Known You Were Destined To Make A Difference
Request More Information
Complete this form to receive information about coursework, admissions, tuition and more.
Note: All fields required.
Sport Management Programs that Support Your Professional Goals and Your Schedule
Transform your passion for sports into a rewarding career with an online sport management degree from the University of West Alabama Online. Whether you want to begin a bachelor's degree program or strive to advance your career with a master's degree, our selection of online programs can provide the skills you need to achieve your goals.
The University of West Alabama Online offers a culturally and intellectually diverse environment designed with the flexibility to fit your lifestyle. From application to graduation, you can benefit from our affordable tuition, personal support and generous credit transfer policy.
The University of West Alabama is regionally accredited by the Southern Association of Colleges and Schools Commission on Colleges (SACSCOC).
The average base salary for sport management professionals is $55,000 per year1.
UWA Online is proud to offer tuition that is among the most affordable in the state.
Online Sport Management Degrees
Discover the online program that fits your personal and professional goals.
Online | 4 Years | 6-8 Week Courses
Advance your career and prepare for job opportunities in the growing sports industry as you study key topics in kinesiology, athletic administration, exercise physiology, ethics and more. Students also complete a sport management internship to gain hands-on experience in the field. You can choose from multidisciplinary or business administration emphasis options to specialize your degree.
Online | 3-4 Years | 8 Week Courses
Discover the advanced marketing tactics businesses employ to attract consumers and build a positive reputation. With the Sport Marketing emphasis, you can gain skills in promoting sports teams, tournaments, games and events.
Online | 1 Year | 8 Week Courses
Select this MBA emphasis to prepare for careers in professional sports, collegiate and preparatory athletics, and health-related fitness. After graduation, you can pursue roles with the administrative offices of sport franchises and managerial positions in sport-related industries.
Online | 1 Year | 8 Week Courses
Gain an understanding of management, administration fundraising, event management and data analytics to lead a sports-based business or organization. You can build skills in business, communication, sales and marketing while learning from faculty with wide-ranging business and administration expertise.
About Us
UWA is located in the heart of Livingston on the western border of the state. As one of the oldest and most prestigious colleges in Alabama, we've been helping students pursue their dreams and goals since 1835. Join more than 3,500 online learners and take advantage of our tradition of excellence with our flexible online programs.
Request Info
Where Flexibility Meets Quality
UWA designs online classes to provide the flexibility needed to balance your school and work commitments. The courses offer the same rigor found on campus, so you can engage in quality education to prepare for career success. As you take classes online, your success coach will offer guidance and assist with your questions.
Impactful Sport Management Courses
Study on your schedule in our online classroom as you explore the intricate factors of sport management, including marketing concepts, media, sport psychology and sociological foundations. You can learn from faculty members with years of industry experience and graduate prepared for success in sport management.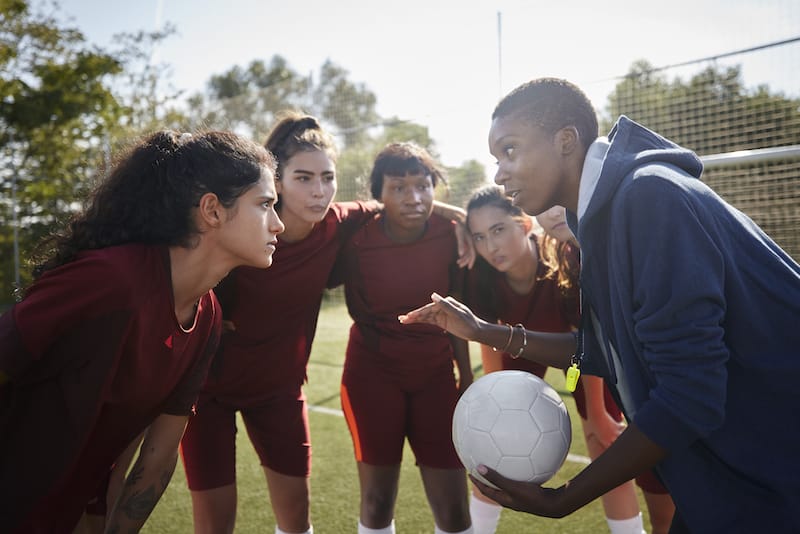 Pursue Your Dream Job
With the University of West Alabama, you're only steps away from the career you've always wanted. Our online sport management degree programs help you gain the academic credential and the professional skills required to pursue a career in the field that interests you most.
Sport Management Career Paths
Athletic director: $63,936 per year2
Marketing manager: $135,030 per year3
Sport event manager: $57,945 per year4
Sports facility manager: $57,000 per year5
Sports marketing coordinator: $47,871 per year6
Sources
Payscale. "Average Sports Manager Salary." Retrieved December 16, 2022, from https://www.payscale.com/.
Payscale. "Average Athletic Director Salary." Retrieved December 16, 2022, from https://www.payscale.com/.
U.S. Bureau of Labor Statistics. "Advertising, Promotions, and Marketing Managers." Retrieved December 16, 2022, from https://www.bls.gov/.
Payscale. "Average Event Manager Salary." Retrieved December 16, 2022, from https://www.payscale.com/.
Payscale. "Average Sports Facility Manager Salary." Retrieved December 16, 2022, from https://www.payscale.com/.
Payscale. "Average Sports Marketing Coordinator Salary." Retrieved December 16,